Pico de Orizaba stands at 18,511 feet over the rolling farmland of southern Mexico between Puebla and Veracruz. Citlalteptl is the harder to pronounce, but cooler, name given to this peak in the náhuatl language from the Aztec era. It translates to something like "Star Peak". Whatever name you use, this thing is BIG. Highest peak in Mexico, third highest in North America, 7th largest topographic prominence in the world! This mountain has a whole bunch of merit badges. Erica planted the seed in Jeb and my brains that we should climb it, and once the plan was in motion, she was extra convincing -- why not ski it?! Here we go . . .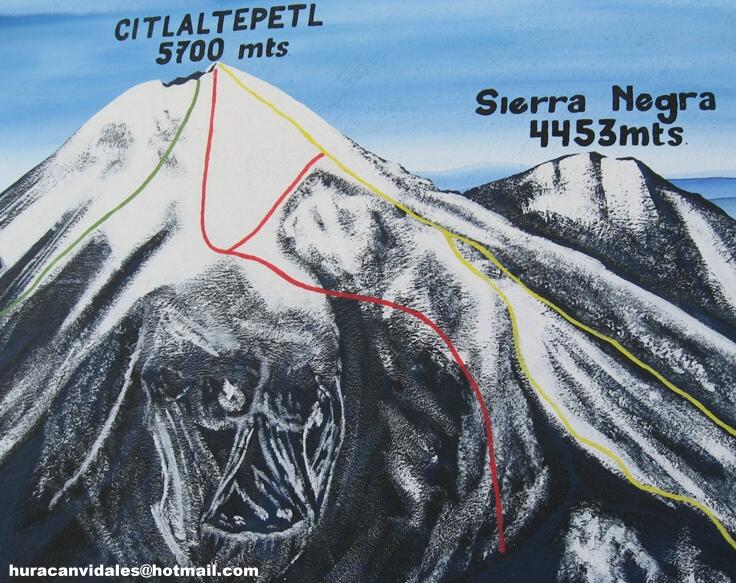 hgmexico.com
Our journey began, as many expeditions do, on an airplane. And as is typical of most elements of a good expedition, this flight had its share type 2 fun. Sharing a row of seats with a 1.5 seat wide dude is fun on its own, but when he has a sweet purple shirt and starts snoring on takeoff, you know you've got something special!

As Jeb observed somewhere near the end of the trip "everywhere we go in Mexico, they're throwing a party!" And he was right, we chose to visit the high point of the country during the biggest party of the year, the grito! On this day 201 years ago Miguel Hidalgo gave a speech that sparked what would eventually become the Mexican war of independence. Every September 15, Hidalgo's speech is reprised from balconies across the country, ¡viva mexico! After some expert negotiation, we were able to bypass hundreds of heavily armed security guards and soldiers and actually rent a room in the hotel that hosted the mayor of Puebla's speech (no, seriously!). Unfortunately, we were on the wrong side of the building to address the crowd.
After quick visit to a MEGAPelican store for supplies, a crash course in rural Mexico navigation, and a 2-hour ride up a dirt road, we were at base camp in the Piedra Grande hut, our home for the next two nights. The weather was spectacular for our whole time there, with thunderclouds from the Gulf of Mexico cruising around in the valley below us but rarely reaching our lofty altitude.
Our first attempt to climb was cut short quickly by an altitude smackdown on Jeb and I. It's amazing how being up just a few thousand feet in altitude can crush an otherwise fit person's ability to function. But equally impressive is how quickly our bodies can adapt. After just 24 hours of rest, napping and checking out the scenery, our second attempt felt like a cruise. We reached our earlier high point almost twice as fast as the day before, and ended up curled up behind a boulder to stay warm while we waited for the sun to rise. By the time we were up on the glacier, the horizon glowed burnt orange softly lighting puffy clouds blanketing the valley below.

Once on the glacier, the uniform shape of the summit seemed to defy depth perception. We knew we were moving upward, but it was tough to tell whether the summit was getting closer!

Grinding away at the type-2 fun paid off though, and we finally seemed to be making upward progress. The closer we got to the summit the more the wind picked up, and for the last few hundred feet energy was equally divided between moving upwards and staying standing with skis on our backs like giant sails.

And once we crested the summit ridge, what a sight! From our northern aspect the summit appeared to be a gentle dome, but once on top we could see that it was really the rim of a thousand-foot-deep crater with nearly vertical walls! It's the kind of volcano crater that practically begged for a secret criminal mastermind headquarters!

What an awesome way to celebrate a couple of birthdays! Getting old isn't much fun, but celebrating with exotic ski mountaineering missions is rad fo' sho'.

Tres, dos, uno, dropping!

Lush rolling hills made awesome ski scenery, and the chalky snow wasn't too bad either. Another climber we crossed paths with during our acclimatization day reported these were the best snow conditions he'd seen on the mountain in years. Gracias otra vez, la niña!

Fired up with energy from a fun ski and energized with thick air, we happily changed back into hiking shoes for the descent back down to the hut.

Once we were back at the hut, our ride provider Joaquin Canchola was waiting for us. We shared a Pacifico and some fun stories with him, then began retracing our steps to the Mexico City airport. We stopped in Cholula to spend the night and enjoy delicious mole and snack on some street food. Unfortunately, somewhere along the line Jeb and I ate some food that our feeble stomachs were unable to handle, and we had an . . . invigorating evening in the hotel room in Cholula.

Can you guess where on the scale we spent most of an evening and morning? Hint . . . allllll the way down at the bottom. All part of the expedition experience though! Thanks so much to the inventor of Immodium, whose product allowed us to drive for several hours with minimal rest stops =).
Special thanks to Dave Miller for the beta on getting to Piedra Grande, Joaquin and Maribel Canchola for welcoming us and a smooth ride up the hill, Ciro for the ride to the airport, Dr. Glenn for the help with getting Diamox, and of course Jeb and Erica for slaying. Can't wait for the next mission!